PRESS RELEASE: Lunar "Land Claims Recognition" Reprinted in International Law Textbook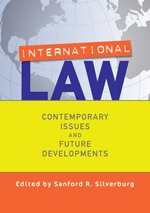 The Space Settlement Institute's article "Space Settlements, Property Rights, and International Law: Could a Lunar Settlement Claim the Lunar Real Estate It Needs to Survive?", which first appeared in the Winter 2008 edition of the Journal of Air Law & Commerce, has been reprinted in the law school textbook International Law: Contemporary Issues and Future Developments," edited by Sanford R. Silverburg, ©2011 Westview Press/Perseus Books Group. The Institute's article appears as Chapter 14 (in Part Six: The Environment: Section A: Air Law; pages 275-299).
The article was reprinted, in it's entirety, as the chapter on the subject of space property rights.
That it will now be taught in law schools is an even more convincing demonstration that, though there may always be some dissent, the general legal community seems to have accepted Land Claims Recognition as being fully in accord with existing international law.
International Law was conceived by the publisher as an international law text reader on which law instructors can rely to augment their instructional efforts. It is intended for use at undergraduate and graduate levels of study at institutions of higher learning and in professional law schools where a concentrated study of international law can be found.
From the back cover:
Featuring contributions from well-established scholars and emerging stars in law and politics, International Law: Contemporary Issues and Future Developments provides students with a succinct and timely overview of key issues in the field.

The authors range from political science and law school instructors to professional researchers and lawyers in private practice, and they offer diverse, multinational perspectives on traditional and emergent issues in the practice and study of international law.
The text book publisher's URL is:
http://www.westviewpress.com/book.php?isbn=9780813344713
"International Law", Silverburg, ed., (ISBN 978-0-8133-4471-3).
Westview Press is a distinguished publisher of academic titles and college textbooks in the social sciences.
Note: The Space Settlement Institute does not receive any proceeds from sales of this work.